'Clever, convincing and wickedly twisty – highly recommended'
MICK HERRON

'The Secret History meets The Capture… an intelligent and inventive thriller that grips to the very last page'
J.P. DELANEY

'Monroe builds up the tension well, offering a battle between good and evil and bringing in the kinds of questions most people ask themselves' 
LITERARY REVIEW

'A clever and complex story of unrequited love, ancient misjudgments and a truly devilish villain'
MAIL ON SUNDAY

'Disturbing and fun at the same time, this is a techno-thriller with an entirely human core' 
MORNING STAR

'Compelling, relentless and genuinely frightening'
SIMON RUSSELL BEALE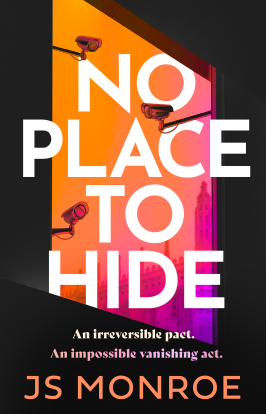 A spellbinding tale of psychological suspense, weaving together the dark web, murder, and blackmail…

You can shut the doors.
Adam lives a picture-perfect life: happy marriage, two young children, and a flourishing career as a doctor. But Adam also lives with a secret. Hospital CCTV, strangers' mobile phones, city traffic cameras – he is convinced that they are watching him, recording his every move. All because of something terrible that happened at a drunken party when he was a student.

You can close the blinds.
Only two other people knew what happened that night. Two people he's long left behind. Until one of them, Clio – Adam's great unrequited love – turns up on his doorstep, and reignites a sinister pact twenty-four years in the making…

But once it begins, there'll be no place to hide.
No Place To Hide was published on 13 April 2023
by Aries (Head of Zeus/Bloomsbury)