J.S.Monroe is the pseudonym of Jon Stock, who has written six espionage thrillers, including the international bestseller, Dead Spy Running, first in the Daniel Marchant – or "Legoland" – trilogy.
"Exactly what we need from a spy novel now"
– Lee Child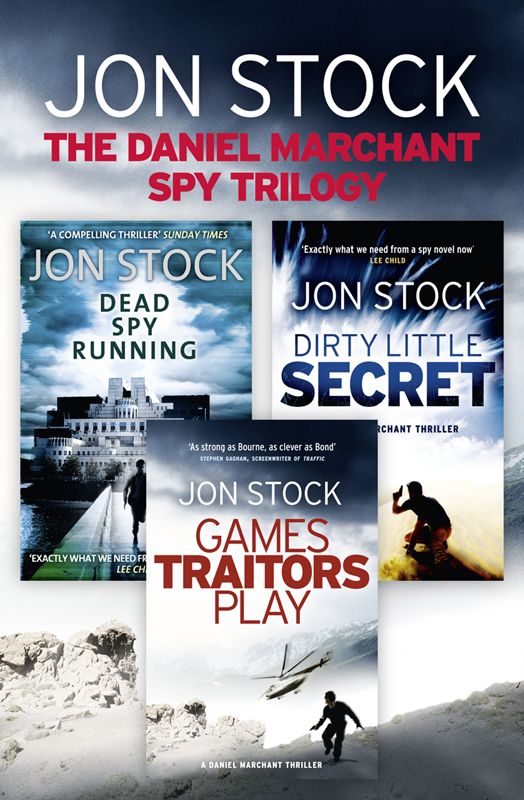 Dead Spy Running, his third novel, was published by HarperCollins (Blue Door) in 2009 and has been translated into five languages (Dutch, French, German, Russian and Japanese).
The thriller follows Daniel Marchant, a young MI6 officer, as he tries to clear the name of his disgraced father, the former Chief of MI6. The sequel, Games Traitors Play, was published in 2011, and the final part of the trilogy, Dirty Little Secret, was published in 2012.
Warner Brothers bought the film rights to the trilogy in 2009, hiring Oscar-winner Stephen Gaghan (Traffic, Syriana) to write the screenplay for Dead Spy Running, which went into development with McG (Terminator IV, Charlie's Angels, This Means War) and Kevin McCormick (Gangster Squad) producing. Jamie Moss worked on Gaghan's script, followed by Simon Barrett, with Adam Wingard attached to direct.
In 2014, the film rights to Dead Spy Running were bought by Wonderland Sound and Vision, McG's own production company.
Here are two 'sizzle reels' for Dead Spy Running – trailers for a film that's yet to be made…
Reviews for Dead Spy Running:
"As elegant as le Carre and as cynical as the twenty-first century … exactly what we need from a spy novel now."
– Lee Child
"Dead Spy Running is a rip-roaring race of a read that never lets up until the finishing tape – and a bit beyond."
– Robert Goddard
"A Jason Bourne sweat-fest with George Smiley's brain"
– Daily Telegraph
"An elegant, unstoppable front runner of a spy thriller"
– The Observer
"Picks up more or less where Le Carré left off"
– The Guardian
"A compelling thriller"
– Sunday Times
"Its deliciously John Buchan-like hero could be chasing the 39 steps"
– Daily Mail
"As strong as Bourne, as clever as Bond, but with a voice set for Generation Next, Jon Stock has done the impossible in Daniel Marchant and created THE new spy."
– Stephen Gaghan, Oscar-winning screenwriter
"A turbocharged thriller"
– Booklist
"A masterfully orchestrated page-turner"
– Kirkus Reviews
"Stock fuses the cerebral complexity and cool prose of early le Carré with a tough, smart hero modelled on Jason Bourne in this excellent spy thriller."
– Publisher's Weekly
In 2017, Jon was commissioned by The Nare, a luxury hotel in Cornwall, to write a spy novella set in and around the hotel, which is located on the Roseland Peninsula. To Snare A Spy is available to buy from the hotel.